Stay Fit and Healthy
Posted on July 17, 2020 by Deborah Myers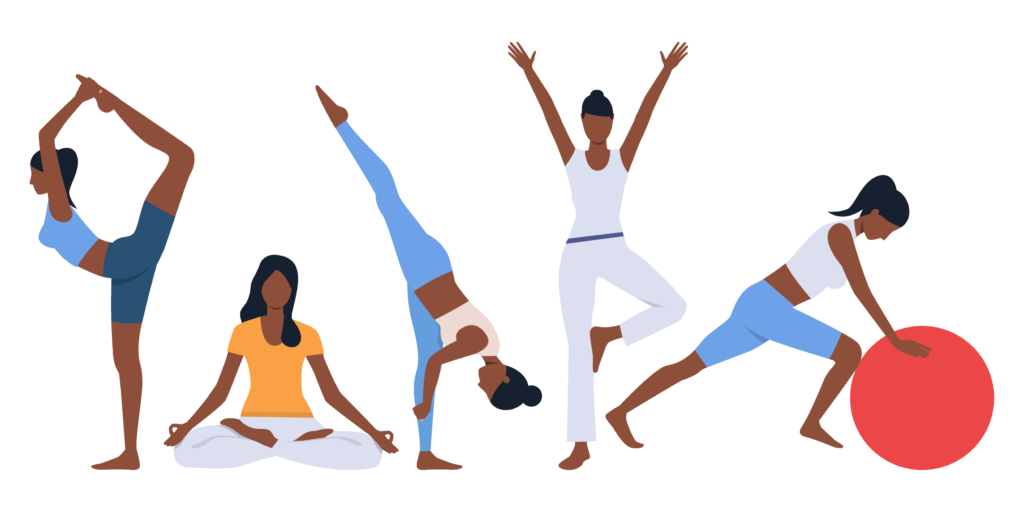 Stay fit and healthy while you are at home. Searching for an outstanding fitness class? Here are my recommendations:
BikerBarre Fit
BikerBarre Fit is located in Santa Rosa and offers virtual classes accessible anywhere you live. It is your one-stop-shop for strength, flexibility, and fun fitness. Someday soon, I'll be back there in-person. Until that happens, I love their live stream classes. Check it out!  And my daughter Nicole is an instructor.
Blue Door Yoga
Blue Door Yoga in Penngrove is an impressive yoga studio. The studio focuses on health, flexibility, and spirit and specializes in creating safe classes for all levels of yogis. They are offering a variety of online yoga classes. Be sure to check them out no matter where you live! My daughter, Nicole, is likewise an instructor at Blue Door!
Enjoying Mother Nature
Being in the outdoors can feed your soul. Whether you wander, hike, bike, ride horseback, garden, stroll in the sand at the beach, climb a mountain, or sit and listen to the birds singing, allow yourself time to soak up the environment. It's one of the best ways to discover breath, be in joy, and relax. Mother Nature will assist you to have a perfect meditation.
Energy Tips for Getting & Staying Calm
Breath is the key! When we have full expansive inhales, our breath feeds us. And those inhales allow us to have full purging exhales.
So much of what has been going on the last four-plus months can affect our breathing. Stress causes us to hold our breath, to wait with bated breath, expecting the next shoe to drop. When our bodies are dealing with stress, anxiety, frustration, sadness, or fear your nervous systems can be on edge and fired up. Heightened arousal = burnout, irritability, fatigue.
Super easy energy tips for ease and calm:
Hold fingertips on opposite upper arms and feel your breath (first step in the Daily Flow)
Hold right fingers on right base of skull and left fingers on outside of right wrist
Hold left fingers on left base of skull and right fingers on outside of left wrist
Cup right hand at sternum below collarbone and hold left fingers on tummy.
Hold right fingers on outside of right knee and left fingers on outside of left knee
Check out my Deborah Myers Wellness Facebook Page for videos of some energy tips while I give you a tour of my garden.
See the animated video of the Daily Clean Your House Flow, an Easy Self-Help Acupressure Flow that both kids and adults love and practice to create a foundation for health and wellbeing. Go to DeborahMyersWellness.com/covid19. It's available to watch and use at no charge.

Creation from your garden's bounty or from the farmer's market
Grilled Summer Vegetables
You'll need a good-sized grill pan coated with a bit of olive oil.
Coat chunks of onions, zucchini, green beans, garlic, peppers, and whatever else you have with oil. (I enjoy using large slices so everything stays firm).
Season with salt, pepper, and any seasoning that complements the other dishes you're serving. Then place them into the hot grill pan.
In a separate pan, have a single layer of mushrooms and dry grill (they'll stay firm and are easy to mix with other veggies).
When veggies have finished cooking and still firm, dump into a large bowl, incorporate sizable chunks of fresh tomatoes and basil. I also add basil salt that I made from last year's crop.
Stay fit and healthy
It is easy to do. Mind, body, spirit in harmony.
Posted in : Blog, Energy Tips, Energy Tips, Garden, Recipe | Tagged : anxiety, Body, breath, Daily Clean Your House Flow, Deborah Myers, Deborah Myers Wellness, easy self-help acupressure, emotions, energy, energy balancing