How to Get Magic in Your Holiday Season
Have you noticed? Even before Thanksgiving, we were inundated with ads and signs saying, "The holidays are here!" It feels like it's been go, go, go time for weeks.
Has your stress level been elevated?
If you as an adult are suddenly feeling pressed for time and maybe even a bit overwhelmed with "all that has to be dealt with," imagine what kids are experiencing.
They also react to all that talk and hype about Christmas and Santa. You might be seeing excitement, but that too can quickly turn into "going into a tizzy."
Let's help all of us – children and adults – discover that we can have magic and joy in the holiday season without the stuff called stress and anxiousness.
Let's Work Some Magic
In my opinion, magic is what the holidays should be about. I think it's important to enjoy the preparation for the season, whatever it might look like for you and your family. That is where the magic begins.
Whether you want to be in a space of contemplation or to step into the traditions that bring your family fun and joy as you prepare and experience the season – it should come with calm and the expectation of the magic.
Positivity Wins!
My family contends I'm a "Christmas nut" with lots of decorations, lights, and sparkle. I think I'm stepping into the magic, so move out of the way!
If you have extended family joining you for the holidays, you might find that you have even more on your plate and that your mind starts wondering which family members may create upset during the time together. That type of thinking can create anxiousness.
Well, we know that positive thinking is essential. Being proactive can stop stress from taking over.
Balance emotions and habits, and you will discover how easy it is to be positive, joyful, proactive, and take control of your own well-being. You can even change any negative patterns, like negative self-talk!
You can potentially help each member of your family be at ease and calm and NOT have stress and anxiousness. You'll discover that you'll be less reactive to situations and emotions.
Uncover the Magic
Here are some easy ways to empty the stress and uncover the magic and joy. You'll also boost your immune system, improve sleep, and help your body avoid burn-out.
Do the Daily Clean Your House Flow®, a nine-step self-help acupressure flow that's easy and takes less than ten minutes to complete. As a nine-year-old succinctly told me, "It is the Daily Flow, so of course I do it every day! And I do it more than that!"Get the free animated video to show you all the steps. 👉 https://bit.ly/DMW-video
Keep your breath open. Feel the expansiveness of the inhale and the letting go during the exhale. In the video you download, you'll also get some energy tips that will expand your breath. Plan on doing them off and on throughout the day. There is no such thing as too much self-help.
Give yourself lots of love! The first step of the Daily Flow is hugging yourself. It opens up breath, shows your body you are caring for it and connects with heart health.
Practise this flow daily or whenever you think you need a lift. You'll experience an energy balance in your body that can change your day…for the positive.
Start building the magic for the weeks to come, and enjoy the holidays!
Let me know if you have any questions! Contact Deborah.
MY HOLIDAY GIFT TO YOU
Discover not only how to survive, but thrive during the holidays!
Get more self-help acupressure tips at the December 6th Ultimate Holiday Survival Bootcamp. During this FREE online session, you'll discover how easy it is to balance your energy and make a difference physically, mentally, and emotionally.
Make a difference in your upcoming holiday season. This works for both kids and adults!
The Lights and Color of the Holidays
The holidays are here in all of their glory!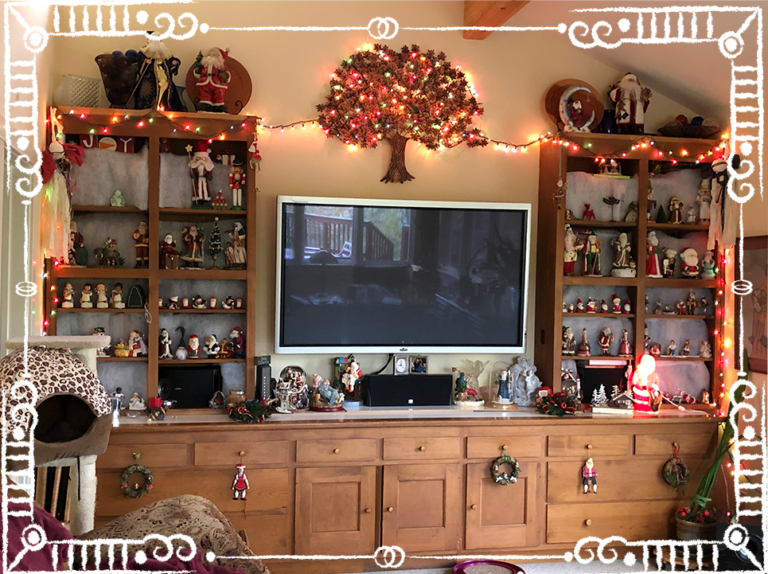 How are YOU doing with this time of the year? Do you enjoy the season with all that is going on? Do you need an extra boost to make it through the day? Read on! I have some energy tips for you!  AND this will work for ALL ages, young and old!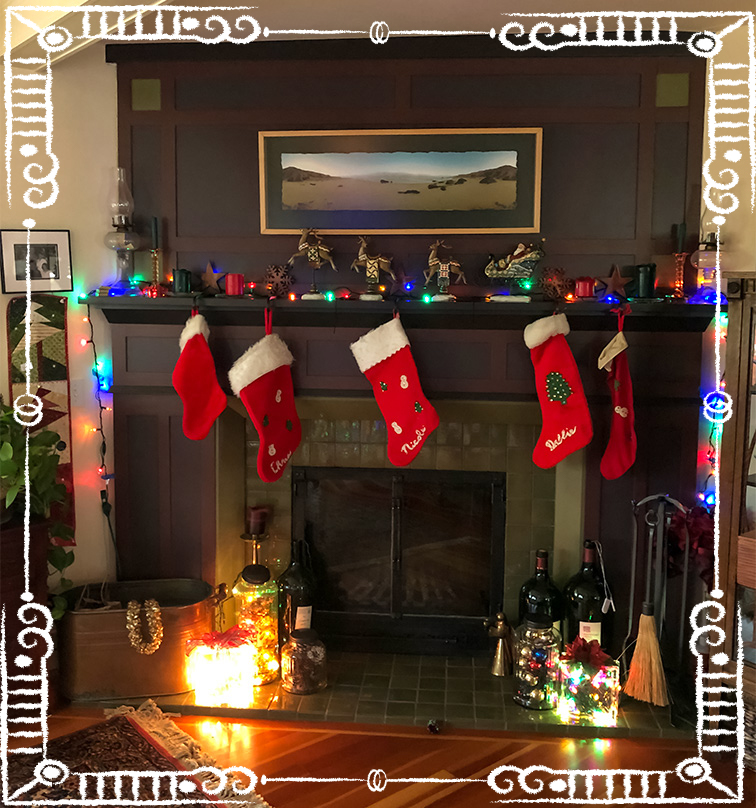 Mrs. Claus
I love Christmas — the energy and joy of the season bring a smile to my face. Walk into my house, and you see a tree laden with hundreds of lights and ornaments. Stockings on the mantle. Hundreds of Santas and happy elves populate my house. There's a reason that a four-year-old was walking into my home with his mother for his session, and he looked at the tree and then at me and said, "Are you Mrs. Santa Claus, too?"
Deck the Halls with Lights and Love
I love the color and the lights just as much as I do the Christmas theme. There's something about those lights that are so important this time of the year when the days are short, and there is more darkness than light in our twenty-four-hour days.
Our Bodies Crave Light during this winter-time holiday season
Our bodies are so hungry for more exposure to light and vitality. Here are several super easy ways to give you and your body that extra boost. And when you share this with the kids in your life, they will remind YOU what to do!
5 Steps to Give Yourself an Energy Boost
To bring extra breath — hug yourself, gently touching the upper arms
Create alignment, posture correction, and vitality — sit on your hands (hold your sit bones)
Enjoy breath, ease, and calm —
Right hand — cup your sternum directly below your collarbone
Left hand — hold your fingers on your tummy below your navel.
To manage feelings — Jumper Cable — gently cup each thumb and finger and balance ALL of your emotions. Get rid of worry, fear, anger, sadness, and trying too hard.
To let go of confusion and bring in clarity
Right hand — cup base of skull
Left hand — cup forehead
Best Wishes
So, with that, I give you my joy of Christmas and lights and color! And I wish for you and yours a magnificent holiday season and a super new year of fulfilled dreams and lots of magical moments that surprise you daily!
All my best to you,
Deborah
Creating Holiday Traditions for our Children

Creating Holiday Traditions for our Children
Holidays beckon for traditions. Can you even imagine a December without Christmas trees, without red and green decorations, without Christmas music, without sparkling lights? No matter the holiday, we surround ourselves with the chosen colors, music, and food that help us get into the mood, stay in the mood, and fully experience the events we create or attend.
As adults we follow our to-do list and the plan that allow us to be immersed in the traditions that make the holiday extra special for us and our families. So no wonder that our children expect to have the same, if not better, experience year after year. After all, it's part of the plan!
It's actually recognized that when we follow the expected we have less stress showing up. And then, when we are in the midst of full engagement, we are more likely to enjoy the experience.
Kids Need Traditions
Traditions actually have higher purposes, especially for children. No matter what you do as a family, it's all about creating memories.  Whether you read "The Night Before Christmas," visit Santa, go caroling, attend a special musical event, attend church, or light the Chanukah menorah you're helping your children create a firm foundation.
That foundation builds a sense of stability, unity and connection. Each member of the family can count on the traditions happening, expect everyone to be together, and can count on being able to participate. Traditions also build unity, bringing the family together. Everyone feels connected. Have you ever noticed that because of the traditions you've created around the holiday experience, your kids expect them to happen? And if you change it up, do you notice that they go into reaction and question why it's different?  They may even go into "you're not thinking of me and what I want." For the most part, what children want is to feel connected to the family, listened to and acknowledged.
Traditions Build Connections to the Past
They can serve as a bridge from the past to the present and from the older generation to the younger. Traditions can be as simple as the scheduled family outing to choose the Christmas tree or making a special ornament for the tree every year. Or it can be making Grandma's extra special cookies or planning your annual Christmas party. What is important is that the holiday traditions work for your family.
You can see that one of our big traditions is decking the halls and decorating the Christmas tree! I have over 1000 ornaments, many of them from my mother, my great-aunt and my grandma.  I have stories that go along with all of them, in addition to the stories about the hand-made ornaments and the many gifts received through the years. I love Christmas! And I love everything about it!  I hope that you and your family have your traditions that make it an extra special time of the year!
Holiday Energy Tip
AND as a holiday gift —  to help out any moments of time when a family member gets a bit anxious or unsure of "what is next" — consider following this energy tip. It will help bring breath and release tension.
Right hand — hold fingers at right base of ribcage
Left hand — hold fingers on right chest below clavicle
Switch to do the left side
And to just bring "I feel good" into your body remember to jumper cable! It helps all layers, all levels, and all emotions.
My Gift of Energy Tips for You!
Prepping for the Holidays
Prepping for the holidays is all about finding the time to do all you want to do! Maybe there's some "I should do this" in the mix, but let's just see how we can make it more manageable.
Your list can be pretty extensive: making the shopping list (we're talking the gifts you've decided on), the shopping itself (usually requires multiple trips out), decorating, the clean-up that follows, wrapping gifts, baking, planning your own entertaining (definitely lots of steps involved including the food preparation on the day of your event), making time for all of the events you want to attend (don't forget to make your reservations and get your tickets), getting those wrapped gifts delivered (either personal delivery or setting up shipment).  Okay — I bet there are more than a few things that I've forgotten.
Are You Tired Yet?
You don't have to be. In fact you can be totally with it and ready for the next thing on the list. And you can feel that you have it handled, with no built-up stress and anxiety about anything you have planned and still need to do.
The key is to have clarity and focus, energy to do what you want to do, and feeling rested for next "thing to do." Here are easy-to-do energy tips to help you feel great about your holiday and all of your plans.
Holiday Energy Tips
Start each day with the Daily Clean Your House Flow
Consider doing the Daily Flow in the middle of the day to give you an extra boost.
When you feel "out of sync" or "I've lost my juice" do this to help you get centered and grounded and to feel revitalized:
With one hand: cup your sternum under your collarbone
With the other hand: hold fingers on your tummy
 If you feel "out of breath" or feel "anxious about the crazy list I've created" do this to create breath and feel empowered:
Hold your upper arms by folding arms across your chest
Or gently cup your thumbs (let's go of worry)
If you feel unsure and unclear of the plan and have lost track:
With one hand: cup your forehead
With the other hand: cup the base of your skull
To get a really good night's sleep (and in the middle of the day, to feel like you actually took a nap)!:
Place fingers on right and left base of skull
Jumper Cable! Gently cup each thumb and finger for several good breaths.
Holiday Momentum
Okay! I hope you feel more prepared for your holiday season and for all that you want to create!
Mine is going forward with full steam ahead momentum! I love this time of year and I love being fully engaged with each and every part of my list. In fact, the list is "just there" and the time somehow appears for the items to be taken care of.  As you can see, decorating my tree is an important item on my list. And the rest of the house reflects my love of "decking my halls!"
I wish each and every one of you a magnificent holiday season!
Life is Full of Surprises!
Life is Full of Surprises!
Accidents are not planned so when they happen life changes. You have a list of what you need to do in the next few days and within the week. You have plans and then all of a sudden you have to make new ones. My car accident of two weeks ago has created a bit of a scheduling chaos. My calendar now needs to handle doctors, physical therapy, energy work, and massage. Whiplash creates a need to for immediate treatment. I don't want to wait for the muscles to tighten up even more.
Where's My Car?
Then there's the car issue. I really didn't expect to hear that my car is a total loss after being rear-ended. How could that have bent the frame? After the crash, I was able to drive my car to a meeting and then to my home. Now I get to deal with replacing my car when that was the farthest thing from my mind. I thought my Subaru was going to give me another ten years. I don't know as of yet what I'll be driving next.
Ripples and Repercussions
Any of this sound familiar to you? Dealing with repercussions from an accident is a lot of "this wasn't part of any plan I had in place." But that's life: it's like a box of chocolates. You don't know what you're going to get until you take a bite of whichever piece you happen to choose or are given.
Harvest Time and the Holidays
It's November and my time is supposed to be used finishing the harvest, cleaning up the garden, getting plants into the greenhouse, prepping for Thanksgiving and creating holiday gifts.  And, of course, if you know me, you know that decorating for Christmas is of major importance. And top of the list is seeing my clients and spreading the word about my animated video of the Daily Clean Your House Flow.
Day by Day
So what to do? Take each day, one at a time, just like picking out a piece of chocolate. And I thank my lucky stars that my body is on a fast track to healing. All things considered, my life COULD be a lot worse. I have a treatment plan and I'm doing my energy work around the clock. Whatever gets accomplished from my list is still in up for grabs. The key is treat the list in way that keeps it from turning into stress.
Energy Balance and Healing
I'm doing the following to help my body be in energetic balance and heal.
Breath, Relieve Shoulder and Neck Tension
This flow will help you to be in breath and relieve tension in your shoulder and neck:
Hold upper arms by folding arms across the chest
 Left hand: cup right shoulder with fingers at top of right shoulder blade

Right hand: cup sternum below collarbone
Left hand: move to right upper arm
Left hand: hold fingertips in a vertical pattern on tummy
Clarity, Focus and Release Tightness in your Neck and Head
This flow will help you create clarity and focus and relieve neck and head pressure:
Left hand: cup back of neck
Right hand: cup forehead
Gratitude is an Attitude
By the way, you don't have to be healing from an accident for any of this to work! Try these steps any time you want to expand your breath and improve focus.
I'm hoping YOU have a beautiful November! This IS the month for gratitude. See what each day brings and look for the good.  Enjoy!