Remedies for Dryness During a Drought

There is no doubt we are in a drought
Drought. Here in Northern California and other parts of the world are experiencing extreme weather: some too hot, others too wet, lots of confusion and shifts in seasonal patterns.
My garden is my cheerful spot. Reflecting on the water situation in my area made me realize changes to the weather are affecting more than the land we live on. Our bodies, the other critters who inhabit the earth, and plants are responding to these dry conditions. I share my thoughts and solutions to keep you feeling your best and in balance.
I took this video in my garden and runs 6 minutes 41 seconds
Lapping up Sunshine
I am down in my garden, lapping up the sun and the vitamin D. It is a gorgeous day. The mid-afternoon sky is blue. The sun is shining. It's a little warm, but at least it cooled. We're lucky where we are. Sonoma County has been giving us the experience of waking up to the fog and starting with cool days.
Everyone is talking about the heat and dryness and the drought. I know we're not the only ones. The need for rain is prevalent in many places throughout the country and the world.
I'm working on saving water
Just like a lot of other folks, I'm collecting water from my shower and finding other ways to reuse water. In my garden, I'm also determining what changes to make. It's decision-making time. We are in a drought cycle.
I had to make a hard decision a few days ago. I emptied my fountain. That required that it get thoroughly cleaned to ensure that the pump stays viable when it doesn't have water.
Oh my. I can't even believe how much I was used to the sound of the water cascading from one basin to the next. I'm already missing it immensely. And I'm also looking at the plants in the garden and determining what I can keep alive. If a plant is in jeopardy and having a hard time, I need to consider whether it is time to let it go. Water is a finite substance, even when you're on a well.
Bring fluid to your body
Guess what? Your body needs fluid, too. Are you getting enough good water with electrolytes to feed every cell, so your body recognizes that it has plenty to assimilate? Your body needs to experience a state of sustenance.
So, make sure you're getting enough vitamin D and enough good fluids that feed every cell of your being. Help your body know that you are consistently nourishing it.
According to the National Centers for Environmental Information, drought can have an adverse impact on people:
"Drought can also affect people's health and safety. Examples of drought impacts on society include anxiety or depression about economic losses, conflicts when there is not  enough water, reduced incomes, fewer recreational activities, higher incidents of heat stroke, and even loss of human life."
You can find out more about weather and the environment on the National Oceanic and Atmospheric Administration (NOAA) website.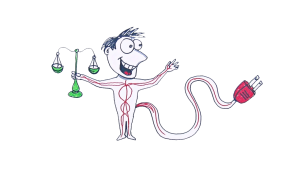 And where would I be without doing a little energy work?
Ready to help your body receive extra fluidity? This self-help acupressure movement will help your body accept and move lubrication to every cell.
Cup the sternum below your collarbones and hold your other hand on your tummy directly below your navel. It's that easy!
When you do this, it helps your body accept and let go simultaneously. How can the body do that? It's magic! The body is so darn clever! The energy balance points under your collarbones give your body the signal to receive, gather, and disperse fluid, food, breath, and energy. When you put your hand on your tummy, you are connecting with an energy balance area that brings all of that to every cell of your being.
Have you noticed that your body seems to take on the dryness of your environment? You may have dry skin, sinuses, ears, nostrils, mouth, and eyes. Do this simple self-help acupressure movement to relieve the discomfort. Hold each energy balance point with a light touch for several good breaths. By the way, instead of problems, I call them projects. Projects are more fun to work with and have a beginning and an end!
For left side pressure/tension or "project"
Right hand—hold fingers along the right side of your neck
Left hand—fingers "travel" along the left side of the "centerline"

* at top of head close to "centerline"
* then just into hairline
* next, move fingers to the left side of forehead
* and then to the inside of left eyebrow
* place fingers at left cheekbone close to nostril
* and next, rest fingers just below left collarbone, close to your sternum,

For a right side "project," switch your hands
Take Care of Your Body and Your Home
I hope you find you can do these energy flows easily and effortlessly. That's what this is all about—helping your body remember how to be in flow and at ease.
You're taking care of your garden and yard so they can more easily come back after they struggle with dryness. Give your body at least the same amount of attention, and maybe more!
Remember, any body needs to be taken care of. So, be good to your garden, and take care of your property. And take care of this body that you walk around in. It's your house. It's there for you. Your body deserves it!