Press Release regarding COVID-19
For Immediate Release
April 13, 2020
Wellness Expert Deborah Myers Posts Free Animated Self-Help Video To Help Kids And Families Stay Calm In These Difficult Times
Deborah Myers' "Daily Clean Your House Flow" video is live at www.deborahmyerswellness.com/Covid19/
Deborah's video is an enjoyable and super-easy way to help discover balance and harmony. It enables you to reduce stress and feel more at ease. Something we can all use at this time.
It is a 6 ½ minute 9-step self-help acupressure flow, basically a mini-meditation. Originally created for children, people of all ages use it daily. The video is Deborah's gift to parents, kids, teachers, healthcare workers and all who can use a little less stress in their life.
Deborah is a certified acupressurist and mind-body health practitioner with a degree from the Acupressure Institute in Berkeley CA. For over twenty-five hears she has helped people get and stay healthy. More bio information is at https://www.deborahmyerswellness.com/about
She is available for interviews.
"Deborah's Daily Clean Your House Flow is a wonderful tool to help you and your children release stress and connect as a family, and feel empowered to live life from a place of strength and confidence, rather than fear and anxiety."
—Dr. Blake Brandes, Growth Mindset Educator and host of The Motivational Millennial Podcast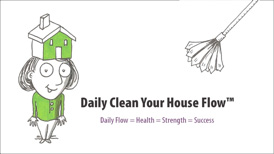 For more information:
Contact Bob Heyman at bob@digitalengagementgroup.com